"Due to a move, I needed to relocate my paintings while my new studio was being built. Suddenly, I had an idea: Instead of letting them sit in a warehouse, I decided to call Christiane Germain," Stéphane Rousseau explained to us over the phone. Since the hotel group is well known for featuring the works of Canadian artists in all of its establishments, it was hardly a preposterous notion. 
So it was a natural decision to adorn the walls of Le Germain Hotel Montreal and Escad Hotel Quartier DIX30 with 11 oversized canvases by Stéphane Rousseau for a year.
While he is best known for his impressive career in comedy, visual art, which Rousseau first discovered through an encyclopedia of the great masters that belonged to his sister, has been part of his life since childhood. "I've always loved to draw. I was constantly doodling in class — probably too much, actually!" exclaimed the artist. During his first tours in Europe, where he started to run galleries and museums, the spark that was already in him grew into the brilliant flame we can see today. "I immersed myself in the worlds of Picasso, Jean-Michel Basquiat, Keith Haring. Surrealism and Cubism really speak to me. I have a soft spot for riotous canvases that you can linger in front of for a long time. And, at the same time, I also discovered street art. A revelation!" continued Rousseau.

At first, painting was an outlet for him. "After drawing so much, I decided to start painting about 20 years ago. I would retreat to my first studio, which I had moved above my garage, and explore different styles while waiting to discover my own," explained the artist. Since the Origin exhibition in 2019, it seems that Rousseau has indeed found the common thread that connects his works. On his canvases, surrealistic and fragmented characters mix and multiply against flat spaces of black, white and gold, interacting with hyper realistic drawings in shades of gray. We sense a constant duality between playful forms — little monsters, animals of every description, geometric shapes — and darker symbols, such as skulls and other bones. "I have always had two opposing Stéphanes in me. I draw a lot of inspiration from my psyche when I create: I think about everything that frightens me, such as illness and death, but also what I love, like nature and my memories of hunting with my father. My paintings are full of my little demons, animals that protect me, my alter egos…", explains Rousseau.
Transposing his internal universe onto huge canvases is a technical challenge, says the artist. "As much as I had no guiderails when I was exploring and having fun with a range of colours Basquiat-style, the approach, which I still apply today, demands incredible precision and discipline. I want everything to be precise and flawless, which takes a lot of time." It was through trial and error that the artist eventually developed his own technique for drawing perfect circles, as we can see on Oni or Octopussy. "After trying with big compasses and large sheets of adhesive paper, I ended up creating my own Masonite cut-outs. A little miracle!"
His creative impulses come in waves. "Sometimes I don't touch a brush or pencil for three months, but when I start up again, I can easily create for sixteen hours straight without feeling drained. I really get lost; nothing else has that effect on me." The artist often works on several pieces at the same time.
For him, the pandemic and confinement represented a hyper-productive phase, both in his humor and his visual art. "For once, I wasn't living out of my suitcase!"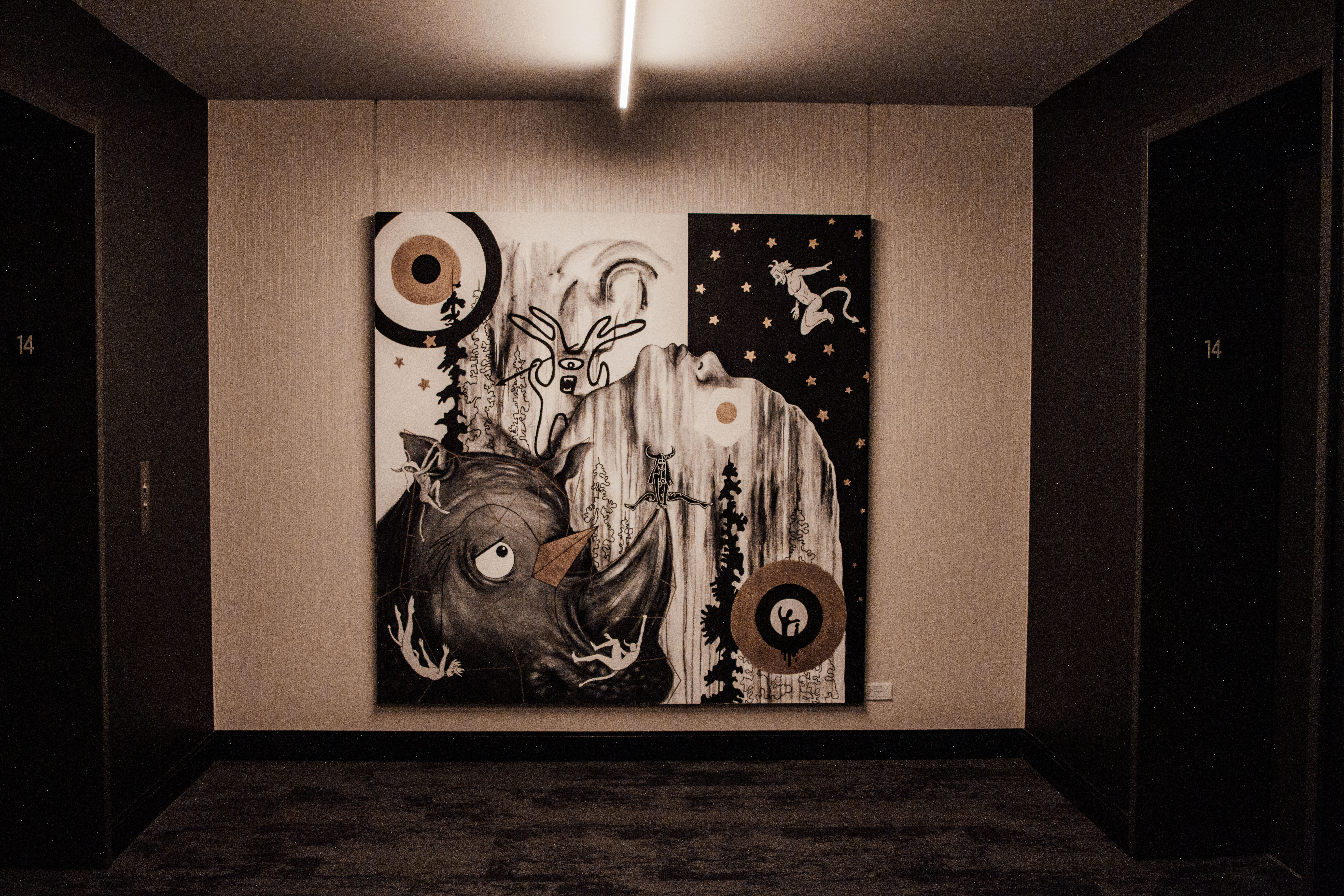 But the touring life of the comedian also fuels the artist in him: "I normally love drawing on the train between shows in Europe. I find it so romantic to lose myself in the landscapes unfolding before me and just let my pencil fly! I also spend hours creating in the hotels where I stay. When I'm on stage at night, I try to conserve my energy during the day. "
Take advantage of your next stay at Le Germain Hotel Montreal or Escad Hotel Quartier DIX30 to delve into the world of Stéphane Rousseau and discover a much more complex, intimate and hidden dimension of this multidisciplinary artist.