Right in the middle of town, and all around the city, you'll find some of the best places in Canada to get outside, whether on one of the two mighty rivers, or on North America's most extensive urban pathway and bikeway network. This short guide pulls together some of the not-to-be-missed destinations and activities alongside some valuable insider tips and secrets.
Getting There
Set on the Trans-Canada Highway which runs from coast to coast, Calgary is a perfect destination for those who love big road trips under massive skies, but flying in is just as fine. Calgary's International Airport (YYC) is a hub for WestJet, with plenty of flights on Air Canada as well as American carriers such as United and Delta.
Do I really need to rent a car?
Probably. Calgary has an extensive and efficient public transit system that includes the CTrain, one of the busiest light rail systems in North America, as well as rapid buses. Ride-sharing apps are also available, but the city is large and spread out, so a car is definitely a major convenience, especially if you plan to explore beyond city limits to the majesty of the Rockies, which are about ninety minutes to the West.
What clothes should I pack?
While summers tend to be hot, temperatures can be quite variable because of the altitude and the proximity of the Rockies. Low humidity means potentially cool evenings and nights, so make sure to throw in a sweater and a jacket. And expect the unexpected; even in the warm months, it's not completely unheard of for a snowstorm to blow in from the Rockies. Chinook winds can wreak havoc with normal weather patterns, so be prepared for any conditions.

Day 1

First Stop
Grab some breakfast at the supercool Chix Eggshop. It is located in the Alt Hotel Calgary East Village on the banks of the glacier-fed Bow River in the newly revitalized East Village. This self-described fast-fine diner's menu includes a balance of healthy options and comfort food classics such as chicken and waffles.
Second Stop
Once you've fueled up from breakfast, grab a Bird scooter or rent an e-bike from the folks across the road at Bow Cycle and explore Calgary's amazing path network, stretching more than 1,000 kilometres in total along the rivers, through parks, and well beyond, and then ride over the footbridge crossing the river and proceed a few blocks North to Blue Star Diner. Unpretentious and delicious, the establishment specializes in locally sourced food made with love. The bison chili is legendary, but if you feel like a lighter lunch, try the catfish tacos.
Third Stop
For a digestive stroll, head back to the East Village, a resplendent neighbourhood where the walls are adorned with murals and boutiques offer both low—and high-end items. The RiverWalk will take you to a footbridge over to a lovely little spot called St. Patrick's Island.
Fourth Stop
In the mood for some history and culture? Head on over to Studio Bell, home of the National Music Centre, a vast museum of countless rare artifacts. Inaugurated in 2016 after extensive renovations, it includes the collections of the Canadian Music Hall of Fame, the Canadian Songwriters Hall of Fame, Québec's ADISQ Hall of Fame as well as the Canadian Country Music Hall of Fame.
Fifth Stop
Time to enter the realm of the spectacular culinary creations of Chef Darren MacLean. At Nupo, his 17-course tasting menu brings together a perfect mix of Japanese craftsmanship and Canadian ingredients, many of which are sourced at his own no-till farm, just South of town. Canadian caviar, handcrafted wasabi, and omakase sushi so good it requires the advance purchase of a ticket, and even then, only a select few get to enjoy it! The cocktails are equally impressive, especially their sake-based mixes, but let's not forget the Bloody Caesar. Canada's most popular cocktail was invented in Calgary and today, more than 400 million glasses of this delicious beverage are consumed across Canada every year.
Sixth Stop
Why not take in the breathtaking views from the Calgary Tower—and maybe a nightcap at the on-site restaurant—as the observation deck slowly rotates 360 degrees 191 metres (626 ft.) above the sparkling lights of the heart of downtown. On your way out, stride across the section of glass floor—if you dare.
Insider tip: If you have a little extra time during the day, head to the Reader Rock Garden. With bridges, benches and stone walkways, this is a locals-only spot that can feel like your own secret garden. Enjoy the flowers, the peace and quiet, and feel free to bring a book or a picnic lunch.


Day 2
First Stop
While a library may not appear on many travel itineraries, the new Calgary Central Library is universally regarded as a marvel. Head to Lukes, the in-house cafe, for some coffee and a bite, then spend time browsing books in this impressive and innovative 286,000-square-foot space built to maximize light with materials that honour its surroundings. Time Magazine even named it one of the World's Greatest Places in 2019!
Second Stop
After a morning of feeding your mind, time to feed your body and get ready for an afternoon of activities with a delicious lunch at Notable. Specialized in elevating Canadian classics sourced from a select number of local farmers, you should not miss the "rotisserie bar" overlooking the kitchen. We warmly recommend the hearty bison burger with parmesan truffle fries on the side.
Third Stop
Time for a float—you've earned it. Prepare to relax; the Paddle Station will do the rest for a full afternoon. Book, show up at Shouldice Park, let them brief and outfit you, and then sink into your hot tub shaped raft and float through the heart of the city, a meandering 12 kilometre self-guided pleasure cruise on the Bow River. Very handy—the drop-off at the end is just by the Alt Hotel on St. Patrick's Island.
Fourth Stop
Walk a waterfront path along the Bow River—or take a very short drive—to Rouge. Set in a heritage farmhouse, the warmth of the establishment will envelop you the second you cross the threshold. Things can get pretty wild, too. Chef Dean Fast sources many of the ingredients for his delicious plates at his on-site garden, and others are foraged—co-owner Paul Rogalski and Survivorman TV host Les Stroud even have their own reality show, Wild Harvest. What you are treated to is refined frontier cuisine in a welcoming space with a view overlooking the garden. 
Or
Stop by CHARCUT Roast House! The style of food is best described as chef-driven local cuisine with Italian and French accents. Co-Chefs Connie DeSousa and John Jackson prepare charbroiled and rotisserie meats, and handcrafted charcuterie from locally sourced ingredients for the pleasure of even the most sophisticated taste buds.
Day 3
First stop
Start your day right with a copious breakfast at Sidewalk Citizen, just across the road from the Alt Hotel Calgary East Village. The main attraction here is Freddie, the starter for their sourdough bread that people order by its name!
Second and Third Stop
Hungry for learning? Take a 20-minute drive to the Calgary Heritage Park and step back in time. Reconstructing four different periods, you'll get the opportunity to immerse yourself in history with costumed interpreters who will tell you their stories. You'll even get the chance to ride an old steam train or a paddlewheel boat. You can enjoy a delicious lunch at the Park's Club Café and as an add-on to the Heritage Park, Gasoline Alley is worth a visit. What you'll discover there is a hands-on experience with vintage cars that both car lovers and anyone who has an appreciation for engineering and fine automobiles can enjoy.
Fourth Stop
Now, it's definitely time for Happy Hour. Rest your legs and grab a fresh-made flight at The Establishment, which was honoured as Canadian Brewery of the Year in 2021. Enjoy a little Afternoon Delight—their New England Pale Ale—, a true beer lover's brew, or Jam Rock, a fruit-forward flavourful blackberry sour, with a hint of vanilla or one of their special wild barrel-aged beers, perfect for those who love sours. Check the schedule—music is a key part of this place, and they regularly host live shows.
Fifth Stop
After your beverages have successfully put the "happy" in Happy Hour, take a short walk to Alloy. Bringing together Mediterranean and Latin flavours, dinner here is a real treat. The small, heavily curated menu focuses on ingredients that are super-fresh and in-season. Opt for a light starter like apples and beets with feta and micro-greens, then get serious with an Alberta classic—braised beef short ribs with creamy potatoes, and a tomato balsamic reduction. 
Insider tip: If you're looking for a late night, head to one of Calgary's supercool speakeasies, including Standing Room Only,, Proof, and Paper Lantern, a Vietnamese escape hidden away in a Chinatown basement.
A few other tips, for longer stays:
Stretch your legs and enjoy some fresh air on the trails at Fish Creek Provincial Park, Canada's second-largest urban park. Covering fourteen square kilometres, you can also swim, bike, fish or bird-watch—the park is home to some 200 winged species. Download the Merlin Bird ID app for a portable bird guide.
Stay on the outskirts of town, and drive about thirty minutes South, to The Lake House. Set right on the waters of Lake Bonavista, this upscale restaurant specializes in Rocky Mountain cuisine in a setting that feels like a wilderness lodge. Grab a table by the massive fireplace, under the antler chandeliers, for amazing steak and seafood.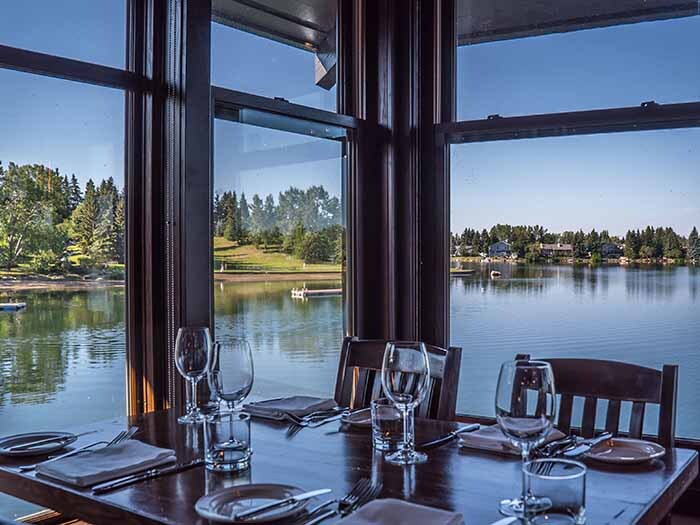 Grab a fishing rod and get out on the river. One of the best spots in the world to drop a line in the middle of the city—the Bow is one of the world's most legendary trout-fishing rivers. Many guides offer this trip, but few visitors know about it. Sign up for a full day with a company like Hanson's Fishing Outfitters, and they'll teach you everything, from how to cast the fly, to the best ways to reel in the big one.
For Hikers and Walkers: Banff National Park
For Canadian mountain majesty, it really doesn't get better than Banff National Park. The nation's first national park, you can hike right from the town site on a trail at Tunnel Mountain on a trail even beginners can enjoy, with a big payoff view. The 4.5-kilometre round-trip takes a couple of hours. The final lookout places Banff and the Bow Valley at your feet. Refuel with some locally crafted beverages and wood-fired cuisine at Park Distillery, then bed down at Canada's castle in the mountains—the Fairmont Banff Springs Hotel.
For Nature Lovers: Waterton Lakes National Park
While Banff gets most of the attention, Waterton Lakes National Park is a nature lover's dream, with grizzly and black bears, elk, eagles, and other wild western wonders. Take their signature boat cruise, which sails past thick forest under soaring peaks South of the border to the American side (and the beginning of Glacier National Park)—the international border is marked only by the straight line of a blaze cut through the woods.
For Photographers: Lake Louise
Just viewing the blue, glacier-fed waters of Lake Louise, perhaps Canada's most-photographed body of water, is worth the trip. But you'll find plenty to keep you busy too, like hiking to the Lake Agnes Tea House, built back in 1901, a trail that takes you past beautiful cascades and the calm of Mirror Lake. Or paddle out on the iconic lake itself with a guided tour in an authentic voyageur canoe. We recommend arriving early in the day as parking can be trickier to find as the day passes.
For Amateur Paleontologists: The Royal Tyrrell Museum
The Royal Tyrrell Museum in Drumheller is home to one of the world's largest displays of dinosaurs (their Dinosaur Hall has 40 skeletons, including a ferocious-looking T-Rex), plus literally thousands of fossils. In addition to being a bona fide global research centre for paleontology, it's also a lot of fun—adults and kids alike can enjoy their hands-on exhibits. Then drive around the area to enjoy the grandeur of the badlands, where most of these dinos were dug up.

For Scenic Drivers: Icefields Parkway
Often ranked one of the world's most beautiful drives, the Icefields Parkway dances along the Continental Divide, curving 232 kilometres from Banff to Jasper. Along the way, you'll pass more than 100 glaciers and countless waterfalls. An essential stop: the Columbia Icefields, where you literally roll out onto a glacier on the massive tires of a "snow coach." Then see the sweep of it all from above through the glass floor of the Glacier Skywalk.

For the adrenaline junkies : WinSport
Find some adventure and recapture the Olympic spirit. Calgary hosted the XV Winter Games in 1988 just West of the city, where the land rises into foothills on the way to the Rockies, you can still experience those glory days at WinSport which maintains and uses the facilities built for the big event. Take an adrenaline-pumping run down the bobsled track, or a guided tour of the ski jump tower, or soar through the air on a zip-line.