I have the opportunity to travel all across Canada for work and I've made a number of magnificent discoveries over the past few years. I fell for Winnipeg's charm. I had a gastronomic love affair in Ottawa. I got off the beaten track in Toronto. I take great pleasure in making new discoveries and meeting the people who are the beating heart of a city or region. I suspected that St. John's would be no exception. What I didn't know was that this city on the tip of an island would steal my heart. This is the story of a romantic getaway at the eastern edge of Canada.
As soon as we arrive at St. John's International Airport (after a two and a half hour direct flight from Montreal) we experience Newfoundland and Labrador's legendary friendliness. Here, everyone says hello. Here, everyone smiles. Things are off to a great start. When we get to downtown St. John's, the first thing we notice is the colour. The colour of the houses, the buildings, the boats in the harbour. Under a slightly menacing grey sky, the city seems to create its very own sun.
After dropping off our luggage at the hotel, we immediately set out to enjoy our first lunch in this new land. On Water and George streets the pubs are legion and we decide to stop in at the Celtic Hearth, where you'll find a moose burger on the menu. It may seem a small thing, but Newfoundland and Labrador is the only province where the processing and sale of wild game is legal. After two burgers and two pints of beer, all very satisfying, we continue our exploration of this small (but very pretty) port city.
After a long walk through the city's streets, we head to The Merchant Tavern for a cocktail with friends. The second establishment from the famous Raymonds Restaurant Group, The Merchant Tavern offers festive and local cuisine in a decidedly fashionable setting. As soon as we arrive, we're welcomed by a big smile from the hostess and the exceptional kindness of chef/owner Jeremy Charles. After an excellent martini, bubbly, the very first crab of the season and a few delicious entrées shared with friends, we head out for the evening's main event: our dinner at renowned restaurant Raymonds.
Run by Jeremy Charles (in the kitchen) and Jeremy Bonia (on the floor), Raymonds is a local, and I would say national, gastronomic hotspot. We had the pleasure of enjoying seven courses of pure delight, paired beautifully with a selection of wines and cider from the excellent sommelier Kim Cyr. Everything at Raymonds is characterized by distinction and refinement, all while maintaining the good nature and charm of this Atlantic province. The next day, another adventure awaits us.
The plan for the day, after a visit to cute Rocket Bakery for breakfast, is to head to Cape Spear and Ferryland, where a giant glacier has taken up residence. We arrive at Cape Spear, which is the eastern most point of Canada. We find ourselves in front of a landscape breathtaking in its grandeur and simplicity. They say that in the summer you can admire the whales with your feet planted at the edge of the country.
It's from this spot that we see our very first glacier, which, though gigantic, will seem very small in comparison compared to what's waiting for us at Ferryland.
After an hour on beautiful country roads we arrive at Ferryland. Way out in the distance it's not the lighthouse or the ocean that your eyes set on. It's not the pretty little fishermen's houses either. What you see first is the immense peak of the even more immense glacier that has made its home here. It is difficult to describe how it feels standing in front of a natural phenomenon of this magnitude. One thing that comes to mind is humility.
Back in the city, we get ready for another great evening out. On the agenda: dinner at Mallard Cottage restaurant in the lovely village of Quidi Vidi, then over to Christian's pub with the two Jeremys (Charles and Bonia) for the famous "screeching in", a rite of passage in Newfoundland, where we sing songs, kiss the cod (yes yes) and drink screech, a very strong alcohol with a rum base that makes our cheeks red. We feel like we're at home at Mallard Cottage. We enjoyed succulent local dishes and the chef even offered us some seal liver to try. The most surprising thing? Seal liver has less of a "ferrous" taste than its meat. It is very good and delicate.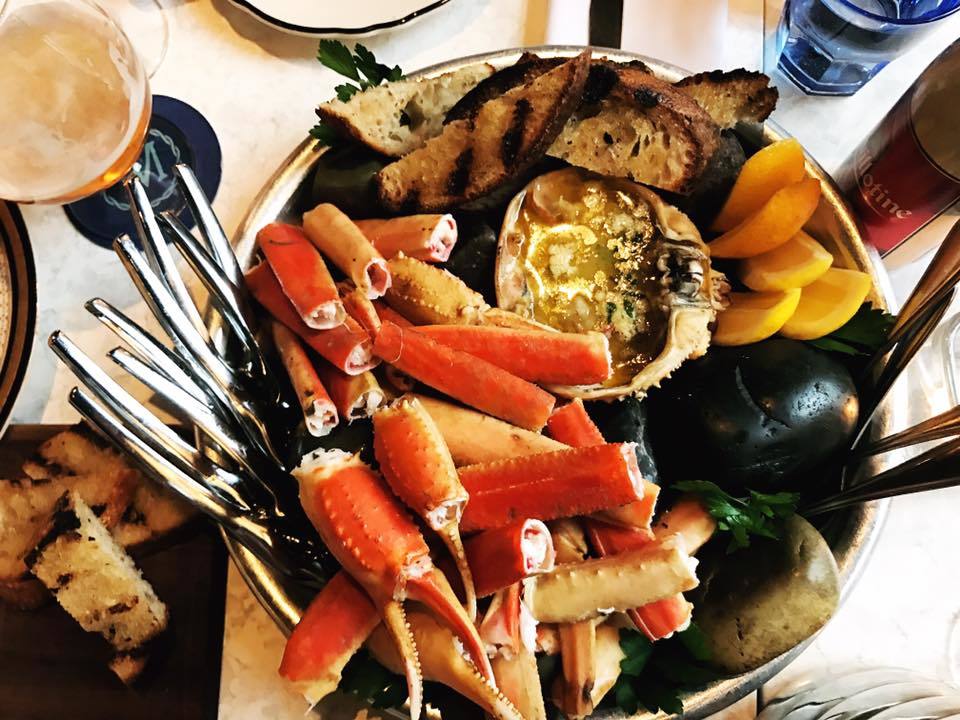 Our flight on Sunday leaves at 2 pm, so we have a bit of time in the morning to visit Signal Hill. About 5 minutes by car from downtown, Signal Hill is a historic site where the very first wireless transatlantic communication took place.It also offers a stunning view of the ocean, the city of St. John's and its harbour.
We finish the trip with a delicious brunch at The Merchant, which has been our headquarters over the weekend, then, with our eyes full of beauty, our hearts filled with good times and at the same time a little heavy at having to leave, we head towards the airport. We will meet again Newfoundland.
I think I love you